Chocolate signature
Chocolate Signature
ช็อคโกแลต ซิกเนเจอร์
チョコレトシグナチャー
Chocolate signature, one of our best seller item. Even with its main ingredient being chocolate, this cake has more flavors than just sweet. We use exceptional chocolate imported from France to ensure the best quality ingredients. Using a mixture of chocolate that has about 100 to 75 percent cacao to offer a bit of bitterness and lighten the sweetness.
Our premium milk chocolate mousse is rich and creamy. Having the crunchy chocolate almond sponge cake and the chocolate hazelnut praline spread adds more texture to the cake overall.
The raspberry jam helps balance out the sweetness in the cake with a bit of sourness from the raspberry that is known to compliment chocolate very well. Pistachio Cream filling also balance the sweetness by introducing a new flavor to the mix.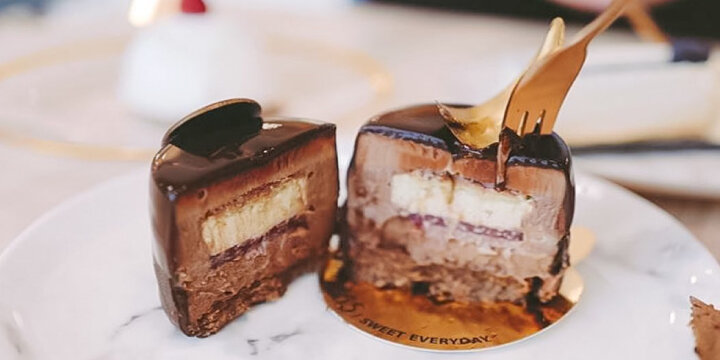 チョコレートシグネチャーはバンコクのシェ・シバタ365のスペシャリティ。

57%と72%のチョコレート、更に100%のカカオマスを使用して力強いショコラのお菓子として人気です。
ラズベリーのコンフィチュール、ピスタチオのクリームがアクセントになり素晴らしいコンビネーション。更にチョコレートパフを忍ばせ食感のアクセントになっています。
最高級のチョコレートと使用し香り豊かなカカオを感じるオススメの逸品です。